– ISLAMIC COUP FOILED IN TUNISIA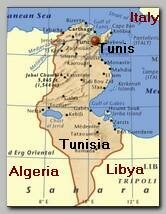 Tunisia, the only Arab country that emerged from the so called "Arab spring" as a democracy, although yet a fragile one, said, on 02/07/2015, it  has arrested 32 would-be attackers, some of whom were returning from fighting in Syria, who planned "spectacular" attacks (see – SYRIAN DILEMA ).
News of the arrests, on Saturday 02/07/2015, came one day after a secular-Islamist coalition cabinet headed by Prime Minister Habib Essid took office.The new cabinet faces many challenges, including armed groups that emerged after the 2011 "Jasmine Revolution".
"Counterterrorism forces foiled plots to carry out spectacular attacks against vital installations, including the interior ministry, security stations and civilian buildings in the capital Tunis," Mohammed Ali Aroui, a spokesman for the interior ministry, told the Reuters news agency. He said the group included "several terrorists [that have] returned from fighting in Syria".
Aroui said troops killed Tunisian and Algerian fighters in Mount Chaambi, near the Algerian border. The spokesman, speaking Saturday night on TV and radio, said those arrested belonged to the 'Okba Ibn Nafaa Brigade', thought to be linked to MAGHREB al-Qaeda affiliate – AQIM, which has in the past claimed responsibility for deadly attacks at Mount Chaambi on Tunisian soldiers.
The reports were confirmed by state news agency TAP, which said National Guard and police barracks had been among the intended targets. Aroui said operations were ongoing, according to TAP.
Since a 2011 uprising in Tunisia toppled the regime of Zine El Abidine Ben Ali, the country has become a major source of fighters travelling to Syria.
With an economy heavily reliant on tourism, Tunisia has been increasing its efforts to stamp out armed groups in the country.
The number of Tunisians fighting in Syria has been estimated at about 3,000.  A few hundred have returned to Tunisia and many have been tracked down and arrested.
Related topics ;
2013 – ANSAR AL-SHARIA IN TUNISIA
06/2013 – TUNISIAN OPPOSITION LEADER, MOHAMED BRAHMI, ASSASSINATED
02/2013 – TUNISIAN SECULAR LEADER SHOKRI BELAID ASSASSINATED
03/2012 – THOUSANDS RALLY FOR "SHARIAA LAW" IN TUNISIA
 **************************
Read more ;