BBC News
– SYDNEY TERROR PLOT THWARTED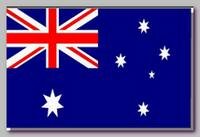 Australian counter-terrorism police said, on Wednesday 02/11/2015, they had thwarted an imminent attack linked to I.S.I.S after arresting two men in Sydney and seizing knives, a video,  which depicted a man talking about carrying out an attack, and a homemade flag associated with the militant group. Police said the men, aged 24 and 25, were arrested after a raid on a home in a western Sydney suburb on Tuesday and had been charged with planning a terrorist act.
Australia  raised its national terror threat level to "high" for the first time in September 2014, when hundreds of police conducted raids after receiving information that ISIS supporters planned to conduct a public beheading.
Australia believes at least 70 of its citizens are fighting with the Islamic State group in Syria and Iraq, backed by about 100 Australia-based "facilitators" (see – Western-Jihadists ).
Related topics ; 
12/2014 – SIDNEY LINDT CAFE HOSTAGES CRISIS
09/2014 – 15 ISIS SUSPECTS ARRESTED IN AUSTRALIA
PROFILE – KHALED SHARROUF
02/2010 – 5 SYDNEY TERRORISTS SENTENCED TO LONG JAIL TERMS
**********************
Read more ;