– ALMOST 100 KILLED IN KUNDUZ AIR STRIKE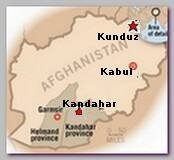 At least 90 people have been killed, on Friday 09/04/2009, after a NATO-ISAF air strike blew up two fuel tankers hijacked by the Taliban in Kunduz, Northern Afghanistan, officials say.
NATO-ISAF confirmed that an air strike happened in Kunduz province, near the villages in Angorbagh, on the main road to Baghlan and it investigating reports of civilian deaths. The governor of Kunduz said that Taliban commanders were killed. Witnesses said villagers also died (see also – Kunduz 07.06.09 ).
A Taliban spokesman confirmed that its fighters had stolen two NATO-ISAF fuel tankers on Thursday 09/01/2009 night, which then got stuck, although he did not say how.
The Taliban decided to empty the tankers and local people arrived to take some of the fuel, he said. At this point, a NATO-ISAF air strike hit the tankers causing a huge explosion.
An NATO-ISAF spokesman in Kabul said that ISAF forces had spotted the hijacked tankers on the banks of the Kunduz River and the local commander ordered an air strike in which both tankers were destroyed and a number of "insurgents" were killed.
One of the drivers of the tankers said that two of his colleagues had been beheaded when the Taliban carried out the hijacking.
Kunduz province Governor Mohammad Omar said most of the dead were Taliban fighters – including Chechen fighters – although other sources say many villagers had been killed while collecting fuel from the tankers. 
.
* Related topics – 
–
08/2009 -43 KILLED IN KANDAHAR WEDDING
.
*************-N-************
Read more –
–