– 14 AMERICANS KILLED IN AFGHANISTAN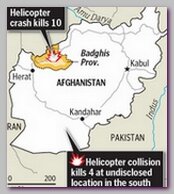 At least 14 Americans have been killed, on Monday 10/26/2009, in a series of air crashes in Afghanistan, military officials say.
Four US soldiers died and two were hurt when two helicopters collided mid-air in the south, NATO-ISAF forces said.
In a separate helicopter crash, in western Badghis province, seven USA soldiers and three US civilians, American DEA agents (DEA is the USA Drug Enforcement Administration) died (see – Afghan Poppy). Another 12 Americans and 14 Afghans were also reported to have been injured in that crash.
Although US said hostile fire was not believed to be to blame for either incident, the Taliban said it was behind the Badghis crash. Taliban spokesman Qari Yusuf Ahmedi told the AFP news agency that militants had shot down the US helicopter in the Darabam district of the province.
Col. Wayne Shanks, a spokesman for the NATO-ISAF force in Afghanistan, said the authorities were still investigating the incident in Badghis, but "do not believe that enemy action was responsible". He said the crash happened as troops were leaving an area where they had carried out an anti-drugs trafficking operation and killed 14 "enemy fighters".
The deaths were the first for the DEA in Afghanistan since it began operations there in 2005, Associated Press reported.
The worst single loss of US life in Afghanistan occurred in June 2005, when a Chinook helicopter was shot down in eastern Kunar province, killing 16 military personnel. 
.
* Related topics – 
.
10/2009 -8 U.S TROOPS KILLED IN NURISTAN, AFGHANISTAN 
10/2009 -4 NATO SOLDIERS KILLED IN AFGHANISTAN  
07/2008 -THE AFGHAN DRUG KINGDOM
.
**************N****************
Read more –
–