– PROTEST OVER AL-AQSA MOSQUE IN JERUSALEM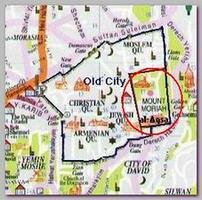 Some Palestinians have been lightly wounded, on Sunday 10/25/2009, in clashes between Israeli police and Palestinians in and around the al-Aqsa Mosque compound in Jerusalem, a flashpoint site holy to Muslims and Jews. 
The Red Crescent emergency service said at least 18 Palestinians were wounded in the violence on Sunday. At least three officers were also hurt in the riots, Israeli police said.
The site is known to Jews as the Temple Mount and to Muslims as al-Haram al-Sharif (the Noble Sanctuary), comprising al-Aqsa mosque and the Dome of the Rock.
An Israeli police spokesman said at least 16 people were arrested, but that calm had largely returned to the area several hours after the clashes broke out. Five of the detainees were released later after the judge criticized the police over their arrest.
The protest was provoked by the ISRAELI ARABS Islamic-Movement, led by Sheikh Raed Salah, which claimed for years the al-Aqsa is under threat and that Jews are digging under the holy Mosque looking after archeological evidence of the Jewish temple (which is a complete imagination).    
Israeli police had deployed extra troops to the site early on Sunday after Palestinians called for demonstrations in response to rumors that rightwing Jewish activists were planning to gather at the compound.
The rumors circulated after a fringe Israeli group, the Organization for the Defense of Human Rights on the Temple Mount, called on Jews to gather at the mosque compound as well as the adjacent Western Wall (according to Jewish Halacha – practical religious Jewish law, it is strictly forbidden for Jews to be on the Temple Mount except a very small corner of the compound).
A spokesman for Mahmoud Abbas, the Palestinian president, condemned "the storming of Haram al-Sharif by Israeli forces" and called on Israel to "halt all provocative acts".
.
* Related topics –  
–
10/2009 -PALESTINIAN CHAOS   
.
**************-N-*************
Read more ;
–