– CLINTON QUESTIONED PAKISTAN OVER AL QAEDA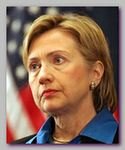 Hillary Clinton, the USA secretary of state, during her visit to Pakistan, has questioned, on Thursday 10/29/2009, Pakistan's commitment to the fight against Al Qaeda, saying she found it hard to believe that no-one in the government knows where senior figures are hiding (see the case of Aleem Nasir).
"I find it hard to believe that nobody in your government knows where they are and couldn't get them if they really wanted to," she told a group of newspaper editors during a meeting in the city of Lahore on Thursday. Hillary Clinton said that Al Qaeda had enjoyed a "safe haven" in Pakistan since 2002.
One woman asked whether the US can be expected to commit long term in Afghanistan after abandoning the country after Russian occupiers retreated in 1989 (see – Afpak-War ). "What guarantee can Americans give Pakistan that we can now trust you – not you but, like, the Americans this time – of your sincerity and that you guys are not going to betray us like the Americans did in the past when they wanted to destabilise the Russians?" the woman asked.
Clinton responded that the question was a "fair criticism" and that the US did not follow through in the way it should have. Hillary Clinton's comments comes amide a travel alert on India, issued on Thursday 10/29/2009 by the USA, saying Washington 'continues to receive information that terrorist groups may be planning attacks in India'. The alert comes even as former president George W. Bush is in India to attend a 'Leadership Summit' in New Delhi Oct 30-31, in first anniversary of the Mumbai Carnage.
* Related topics – 
10/2009 -WAZIRISTAN OFFENSIVE 
************-N-*************
Read more: