– UP TO 20 MILITANTS KILLED IN CHECHNYA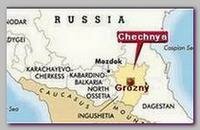 Chechen security forces have killed up to 20 anti-government fighters in a helicopter gunship attack, according to the region's leader Ramzan Kadyrov, on Saturday 11/15/2009 (see – DESERVE TO DIE).
The raid took place in a mountain area outside the village of Shalazh, 30km southwest of the capital Grozny, the Chechen government statement said on Saturday.
Ramzan Kadyrov, whose region has suffered a sharp rise in attacks in 2009, said he believed one of those killed might be Doku Umarov – who had declared himself the head of a "North Caucasus emirate".
"We cannot confirm he has been killed until an autopsy is carried out on the fragmented bodies of the militants," Kadyrov said in comments posted a government website.
He also said government forces suffered no casualties.
Special forces troops launched their ground operation, on Friday 11/14/2009, after helicopter gunships opened fire on suspected anti-government forces, Ramzan Kadyrov was quoted as saying by Interfax news agency. It was not immediately possible to confirm the government's account of the attack.
In another event a bomb blast at a cemetery in the neighboring province of Dagestan killed three relatives visiting the grave of a police officer slain by insurgents, law enforcement authorities said.
Dmitry Medvedev, the Russian president, said on Thursday 11/13/2009, that instability in the North Caucasus region – which includes Chechnya, Dagestan and Ingushetia – was Russia's biggest domestic problem (see – CAUCASUS Deterioration).
The patchwork of republics along Russia's southern flank has seen a wave of attacks in recent months that local leaders say are fuelled by a potent mixture of clan feuds, poverty, Islamism and heavy-handed tactics by law enforcement agencies. 
.
* Related topics – 
–
09/2009 -SUICIDE BOMBER STRIKED IN CHECHNYA 
08/2009 -A SUICIDE BOMBER KILLED 4 IN CHECHNYA  
08/2009 – 5 SUICIDE BOMBERS ROCKED CHECHNYA
.
***********N************
 Read more – 
–