– ANTI-TALIBAN ELDERS TARGETED IN PAKISTAN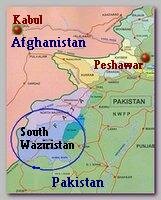 A day after a car bomb killed 15 in a checkpoint in Peshawar, on Saturday 11/14/2009, Tehrik-e-Taleban – TTP have staged, on Sunday 11/15/2009, two tribal elders who have stood up to the TTP in North-Western FATA area of Pakistan, killing one in his home, police said.
A group of militants opened fire on the house of an elder in the Bajaur region around midnight, shooting him dead.
Hours later, on Monday 11/16/2009, on the outskirts of the city of Peshawar, armed militants disguised as burka-clad women attempted to attack mayor Mohammad Fahim Khan. Three of the militants were killed in a gun battle with his guards.
Mayor Mohammad Fahim Khan described how some 50 attackers approached his home (probably a little exaggerating the story). "My men stopped them and asked for identification but they started firing after flinging off the burkas. It is 100% sure that these people came to kill me. They left behind grenades and Kalashnikovs," he said.
Later at Monday three more policemen were killed in an explosion outside a police station in Peshawar.
Also on Sunday 11/15/2009, the PAKISTANI ARMY killed 12 militants and apprehended 2 more during search operations in Swat District where Tehrik-e-Taleban supposed to be uprooted during the Swat-Crisis military offensive.  
More than 300 civilians and security personnel have been killed in the region over the last month in response to the Pakistani army's Waziristan-Offensive against Al Qaeda and the Taliban in South Waziristan.
The Pakistani military says over 545 militants and more than 60 soldiers have died so far in fighting in South Waziristan since the operation began, on 10/17/2009, though these figures cannot be independently verified as reporters have no access to the conflict zone (see – Phony-War). 
.
* Related topics – 
.
11/2009 -PAKISTANI INTELIGENCE HQ IN PESHAWAR BOMBED 
11/2009 -10 PAKISTANI SOLDIERS KILLED IN MOHMAND 
11/2009 -CAR BOMB KILLED 34 IN PAKISTAN 
.
************-N-************
 Read more – 
–