– U.N – 25,000 fOREIGNERS JOINED ISLAMIST MILITANCY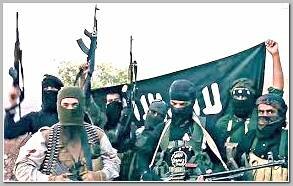 More than 25,000 foreign fighters from 100 nations have travelled to join militant groups such as Al Qaeda and I.S.I.S, a UN Security Council report in late 03/2015 said. The UN Security Council had asked experts six months ago to investigate the threat from foreign fighters joining Islamic State and other militant groups. they live and work in a veritable 'international finishing school' for extremists, as was the case in Afghanistan during the 1990s." the report claims.
Syria and Iraq were said to house 22,000 foreign fighters, with 6,500 in Afghanistan and hundreds in Yemen, Libya, Pakistan and Somalia. The chances of foreign travellers becoming caught up in terrorist incidents was "growing, particularly with attacks targeting hotels, public spaces and venues".
The Security Council adopted a resolution in 09/2014 demanding all states make it a serious criminal offence for their citizens to travel abroad to fight with militants, or to recruit and fund others to do so.
The numbers does not include a large number of Shiite militiamen recruited by Iran to fight in Iraq and Syria under Iranian Revolutionary Guard command.
Related topics ;
02/2015 – WOULD BE U.S JIHADISTS
2014 – WESTERN JIHADISTS
06/2013 – JIHADISTS THREATEN EUROPE WITH FLYING MODELS
07/2011 – SOMALI AL-SHABAB RECRUITED DOZENS AMERICANS

****************************
Read more ;
BBC NEWS
BIGSTORY