BBC News
– YEMEN'S CHAOS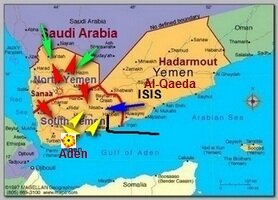 Al Qaeda militants stormed a prison in southeastern Yemen,  in Hadramout Province, on Thursday 04/02/2015,, freeing about 300 inmates including one of their leaders, Khalid Batarfi,  a security official said.
Also on Thursday 04/02/2015, despite operation "Decisive  Storm" Houthi rebels, backed by a Sunni Militia loyal to former President Ali Abdullah Saleh and comprised from the former "Republican Guard" elite force,  battled their way into the heart of Aden where fighting Thursday in the former stronghold of President Abdrabbu Mansour Hadi, who has fled overseas, probably to Saudi Arabia, after seizing the key district of Khor Maksar,  
A Saudi ground invasion is almost  inevitable .
Related topics ;
 
03/2015 – YET ANOTHER SHIA-SUNNI WAR – YEMEN  
03/2015 – YEMEN'S RIFT – 135 WERE KILLED IN 2 SUICIDE BOMBINGS IN SANAA 
01/2013 -ANOTHER IRANIAN WEAPONS SHIP SEIZED IN YEMEN 
07/2012 – IRANIAN SPY RING UNCOVERED IN YEMEN .
 ***************************
 Read more ;