– U.S AND U.K SHUT EMBASSIES IN SANAA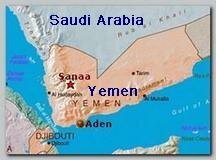 The USA and UK closed their embassies in Yemen, on Sunday 01/03/2010, in the face of Al Qaeda threats, after both countries announced an increase in aid to the government to fight the terror group linked to the failed attempt to bomb Northwestern Flight-253 on Christmas.
The confrontation with Al-Qaeda in the Arabian Peninsula – AQAP in Yemen has gained new urgency since the 23-year-old Nigerian accused in the attack, Umar Abdulmutallab, told American investigators he received training and instructions from the group's operatives in Yemen. President Barack Obama said Saturday that the Al Qaeda offshoot was behind the attempt.
The White House counterterrorism Chief John Brennan said in interviews to Fox News and CNN the American Embassy, which was attacked twice in 2008 (see – Sanaa 09.17.08 and Sanaa 04.06.08), was shut Sunday because of an "active" Al Qaeda threat. According to John Brennan AQAP is determined to carry out an attack on USA interests in Yemen.  A statement on the embassy's Web site announcing the closure cited "ongoing threats" from the terror group and did not say how long it would remain closed.
In London, Britain's Foreign Office said its embassy was closed for security reasons. It said officials would decide later whether to reopen it on Monday.
The closure comes as Washington is dramatically stepping up aid to Yemen to fight Al Qaeda, which has built up strongholds in remote parts of the impoverished, mountainous nation where government control outside the capital is weak.
Over the weekend, Gen. David Petraeus, the U.S. general who oversees the wars in Iraq and Afghanistan, announced that Washington this year will more than double the $67 million in counterterrorism aid that it provided Yemen in 2009. On Saturday, 01/02/2010 Petraeus met with Yemeni President Ali Abdullah Saleh to discuss coordination in the fight against Al Qaeda.
Britain announced Sunday that Washington and London will back the creation of a new counterterrorism police unit in Yemen. Britain will also host a high-level international conference, on 01/28/2010, to hammer out an international strategy to counter radicalization in Yemen.
The USA already provided intelligence and other help to back two Yemeni air and ground assaults on Al Qaeda hideouts last month, reported to have killed more than 60 people (see – Shabwa Air-Strike and Abyan 12.17.09). Yemeni authorities said more than 30 suspected militants were among the dead. On Thursday 12/31/2009, the embassy sent a notice to Americans in Yemen urging them to be vigilant about security.
Yemeni security officials said over the weekend that the country had deployed several hundred extra troops to Marib and Jouf, two mountainous eastern provinces that are Al Qaeda's main strongholds in the country and where Umar Abdulmutallab may have visited. The British MI.5 admitted Umar Abdulmutallab drew their attention already three years ago because of his ties with Muslim extremists in Londonstan.
In another development, one of the senior military commanders of al-Shabab in Somalia Sheikh Mukhtar Robow Adumansur said, on Friday 01/01/2010, they will send fighters to Yemen to help Al Qaeda there in its fight against government forces.
.
* The embassies were reopened, on Wednesday 01/06/2009, after two Al Qaeda operatives, suspected of planning an attack on the USA or UK embassies, were killed in a shootout North of Sanaa, on Monday 01/04/2010 evening. 

 
.
* Related topics – 
–
12/2009 -YEMEN WILL NOT BECOME SAFE HAVEN FOR TERROR  
11/2009 -YEMEN, THE NEW FRONT FOR JIHAD  
.
************* N ****************
Read more –
–