– 4 U.S SOLDIERS KILLED IN KANDAHAR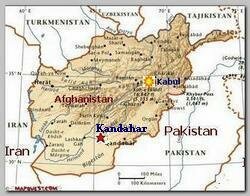 Four USA soldiers have been killed in a roadside explosion in southern Afghanistan, NATO-ISAF said on Monday 01/04/2010. The soldiers died after an improvised explosive device went off on Sunday, a statement by NATO-ISAF said. Also on Sunday, a British soldier was killed in a separate blast in Helmand province, officials said.
News agency AFP quoted an unnamed Afghan police official as saying that the attack took place in Panjwayi district in Kandahar province. "We claim responsibility for this attack," the agency quoted Taliban spokesman Yousuf Ahmadi as saying.
He called from an unknown location and gave the same location of the strike as the police official, the agency reported.
The deaths are the first USa fatalities attributed to hostile action in Afghanistan this year (2010). USa President Barack Obama announced last month he would send 30,000 new US troops to Afghanistan, with a view to defeating the Taliban.
NATO countries have followed by pledging another 7,000 troops so far. In response, the Taliban said they would step up their fight in Afghanistan. A Taliban commander told the BBC that if more US troops came, more would die.
More than 900 US soldiers have died in Afghanistan since 2001. Violence in Afghanistan has reached its highest level since the Taliban regime was toppled in 2001.
* In neighboring Pakistan a blast killed, on Sunday 01/03/2010,

 

Ghani-ur Rehman

, a former irrigation minister in North West Frontier Province (NWFP). Ghani-ur Rehman died in an explosion in Bagto village, about 10km from the city of Hangu. 
.
* Related topics –  
–
12/2009 -2 FRENCH JOURNALISTS SNATCHED BY TALIBAN  
12/2009 -8 CIA KILLED IN KHOST, AFGHANISTAN  
12/2009 -U.S SOLDIER KILLED BY AFGHANI COLLEAGUE
.
***********-N-*************
Read more –
–