– 120 MILITANTS ARRESTED IN TURKEY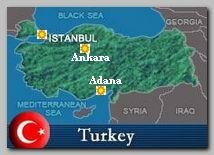 Turkish police, on Friday 01/22/2010, rounded up 120 suspect militants in a massive dawn operation across the country targeting the Al Qaeda network, following similar raids earlier this week.
Senior members of Al Qaeda cells in Turkey were among the suspects, detained in simultaneous raids in 16 provinces, Anatolia news agency reported. Devices to make explosives, fake identity cards and passports, and camouflage smocks were seized in the raids.


Among five suspects detained in the eastern city of Van was an academic, identified only as M.E.Y who allegedly sought to lure militants for al-Qaeda's camps in Afghanistan on the local university campus and on the Internet.
Another five people, among them a suspect who had allegedly received training in Afghanistan, were detained in the southern Gaziantep province. Media reports have said the suspects are believed to have been involved in plots to carry out suicide attacks on Turkish soldiers serving in Afghanistan and on police in Turkey, Anatolia said
A Turkish cell of Al Qaeda was held responsible for four truck-bomb attacks on two synagogues, the British consulate and a British bank in Istanbul in 11/2003. The attacks killed 63 people, including the British consul, and left hundreds injured (see – Double Istanbul attack).
.
Seven men were jailed for life in 2007 over the bombings, among them a Syrian national who masterminded and financed the attacks (see – 05/31/2004).
.
* Related topics –  
–
10/2009 -32 ISLAMIC MILITANTS ARRESTED IN TURKEY  
09/2009 -6 MILITANTS ARRESTED IN ISTANBUL, TURKEY 
.
****************************
Read more –
–