BBC News
– 5 LIBYAN REPORTERS SLAUGHTERED BY ISIS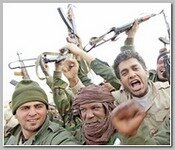 * I.S.I.S  militants have slit the throats of five journalists working for a Libyan TV station in the eastern part of the country, an army commander said on Monday 04/27/2015.
The reporters had been missing since 08/2014  when they left the eastern city Tobruk after covering the inauguration of the country's elected parliament to travel to Benghazi. Their route took them through Derna, a militant Islamist hotspot.
Faraj al-Barassi, a district army commander in eastern Libya, said militants loyal to ISIS were responsible for the killing of the journalists, whose bodies were found outside the eastern city of al-Bayda.
The reporters – four Libyans and one Egyptian – had been working for Barqa TV, an eastern television supporting federalism for eastern Libya, other journalists said.
Brussels-based International Federation of Journalists (IFJ), a group promoting press freedom, said the reporters had been kidnapped at an ISIS checkpoint and were killed "recently".
Related topics : 
04/2015 – MORE MASS BEHEADING OF CHRISTIANS IN LIBYA 
12/2009 – 2 FRENCH JOURNALISTS SNATCHED BY TALIBAN  
03/2007 – ALAN JOHNSTON KIDNAPPING 
02/2002 – THE MURDER OF DANIEL PEARL  
***************************
Read more ;
ALARABIYA
YNET-NEWS
IBTIMES-U.K