– MORE MASS BEHEADING OF CHRISTIANS IN LIBYA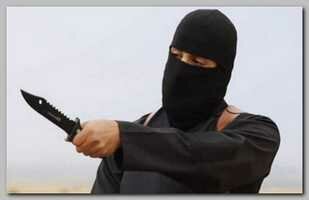 At least 35 more Christians, most of them probably from Ethiopian descent, are feared to have been kidnapped by jihadists in retaliation for air strikes on targets in Libya.  Militants from the Islamic State – I.S.I.S – and Ansar Al-Sharia are understood to have rounded up dozens of farm workers in the wake of bombings by Cairo, it was reported by local media on 04/17/2015.
 It raises the chilling prospect of yet another mass execution in what is being seen as ISIS's bid to announce its presence in a new region where it is gaining influence.  Lasting five minutes, the footage shows a group of Coptic Christians dressed in jumpsuits being marched one by one along a lonely beach, each held by a fighter clad in black. The men their, faces uncovered, are then made to kneel.
A jihadist dressed in camouflage fatigues and speaking English with an American accent declares: 'All crusaders… the sea you have hidden Sheikh Osama Bin Laden's body in, we swear to Allah we will mix it with your blood.' The men are then forced to lie face-down before they are beheaded simultaneously. The camera zooms in on the water as it turns red.
The US said the video showed the 'wanton killing of innocents'.
—————-
** French president François Hollande called for the UN security council to meet over Libya and to take new measures against the growing power of the militants.
Italy has already said it is willing to lead a coalition of European and North African Maghreb countries to stop the ISIS advance in Libya. Significantly, it did not rule out using ground forces.
The video of the beheadings, posted online by Libyan jihadists loyal to ISIS, is the first to come from outside the group's heartland of Syria and Iraq, raising fears it has established a new foothold just 650km from Italy.
Related topics :
04/2015 – MUSLIM MIGRANTS THROW CHRISTIANS TO SEA 
02/2015 – 90 CHRISTIANS ABDUCTED BY ISIS   
02/2015 – 21 EGYPTIAN COPTS BEHEADED IN LIBYA   
2011 – MEAS"T CHRISTIANS
*********************** 
Read more ; 
DAILYMAIL-U.K 
CNN EDITION 
ISRAELNATIONALNEWS