– CIVILIANS KILLED BY TALIBAN ATTACKS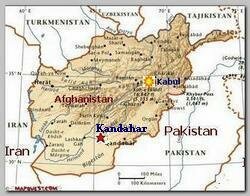 Three civilians are reported to have died, on Monday 03/01/2010 morning, after a suicide car bomber targeted NATO-ISAF forces outside the major southern Afghan city of Kandahar (see also – Kandahar 02.15.10).
It was not immediately known if Monday's attack caused any casualties among the members of NATO.
Few hours later, at about 14:30, five Afghans, including a police officer, and one NATO soldier have been killed and several people wounded in an explosion outside a local police station.
A day earlier, on Sunday 02/28/2010, 11 civilians were killed by a roadside bomb in nearby Helmand Province amide the Moshtarak-Operation.
Meanwhile USA officials in Afghanistan said Kandahar is the next target in the ongoing camping to uproot the Taliban from Southern Afghanistan. 
.
* Related topics –  
–
02/2010 -KABUL ATTACKED BY A SERIES OF EXPLOSIONS  
02/2010 -HAJI ZAMAN KILLED IN AFGHAN DEADLY BLAST  
02/2010 -YET ANOTHER 33 CIVILIANS KILLED IN AFGHANISTAN 
.
*******************************
Read more ;
–