– 5 MORE AFGHAN CIVILIANS KILLED IN KANDAHAR
–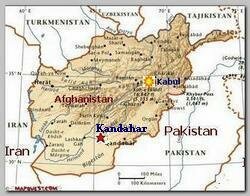 A NATO-ISAF air strike against suspected insurgents in Kandahar, South-East Afghanistan, has instead killed five civilians, on Monday 02/15/2010, officials say. The group was seen digging on a roadside and was thought to be planting bombs, NATO said.
A senior NATO-ISAF official said he regretted the loss of life, adding that an investigation was underway. The incident was unrelated to the ongoing Moshtarak-Operation against the Taliban in Helmand, where a NATO rocket strike there killed 12 civilians on Sunday 02/14/2010 (see – Marjah 02.14.10).
Civilian casualties are particularly sensitive during the joint NATO and Afghan Operation Moshtarak to force the Taliban out of their strongholds in Helmand.
ISAF deputy chief of staff Maj Gen Michael Regner said of the Kandahar deaths: "We regret this tragic accident and offer our sympathies to the families of those killed and injured…Our combined forces take every precaution to minimize civilian casualties and we will investigate this incident to determine how this happened".
Despite all precautions it is impossible, as NATO learned times and again, to fight guerilla assimilated in civilian population and often uses innocents as human shields, without inflicting any uninvolved casualties (see – Goldston Report).

  
.
* Related topics –  
–
01/2010 -TALIBAN RAID ON LASHKAR GAH FAILED  
01/2010 -UN LIFTED SANCTIONS ON FORMER TALIBAN LEADERS
.
*****************************
Read more ;
–