– 6 TERROR SUSPECTS ARRESTED IN MOROCCO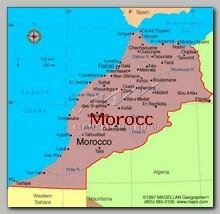 Authorities have dismantled a six-member terror cell that was planning attacks in the North African kingdom, Morocco's official news agency said, on Wednesday 03/03/2010.
The six suspected Islamists were active in several cities and "planned to commit terrorist acts inside national territory," the MAP agency said, quoting a statement from the national police. The six believe in Takfiri ideology, generally aimed to purify Islam from within. Takfiris are a tiny minority of Muslims in Morocco, but they believe that society and its leaders have turned away from the narrow path of what they see as true Islam.
The cell's members will be tried after an investigation, the report says. Morocco has led a crackdown on suspected terrorists since 2003, when Al Qaeda-linked extremists killed 45 people in the Casablanca Bombings in the country's economic center. 
.
* Related topics – 
–
01/2010 -14 SEMTENCED IN MOROCCO FOR TERROR  
08/2009 -ISRAELi ARAB CHARGED WITH ESPIOMAGE  
.
**********************
 Read more ;
–