– MOROCCAN BELLIRAJ JAILED FOR LIFE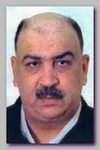 A Moroccan anti-terrorism court has sentenced Abdelkader Belliraj, 52, a Moroccan-born Belgian national, on Tuesday 07/28/2009, to life imprisonment for leading a terrorist network.
The court in Sale, near Rabat the capital, found Abdelkader  Belliraj guilty of committing six murders in Belgium in the late 1980s and early 1990s, of committing theft, smuggling arms into Morocco, supplying weapons to the Algerian Islamic Salvation Front, and threatening state security. He was arrested in Morocco, in 02/2008. During his interrogation, on 03/17/2008, Abdelkader  Belliraj admitted to having a large network of contacts with extremist groups linked to Osama Bin Laden. The court also sentenced on Tuesday three political leaders to 25 years in prison each.
They are Mustapha Moatassim and Al-Amin Arrajala, leaders of the Civilised Alternative party (Badil Al-Hadari) and Mohammed al-Marouani, Secretary General of the al-Umah (the nation) party.
Abdellah Sriti, the correspondent of the Lebanese Hezbollah's TV station Al Manar, and Alaa Badella Maa El Ainin, a member of the Justice and Development party, the main Islamic party in Morocco were given 20 years in prisons.
The court sentenced other defendants to prison terms ranging from one to 10 years. They included a university professor, a telecoms engineer, a hotel manager in the tourist city of Marrakesh and a police officer.
Moroccan authorities arrested a total of 35 people in January and February for belonging to the network, known as the Belliraj cell. The government said the Belliraj gang posed an unusually potent threat because they had planned to infiltrate state institutions, politics and civil society.
Morocco says the group was planning to carry out terrorist acts with explosives and fireams, assassinate high-ranking civil and military officials as well as Moroccan citizens of Jewish confession.
* Related topics – 
–
05/2009 -ANOTHER PLOT TO KILL JEWS FOILED IN MOROCCO  
03/2009 -MOROCCO CONVICTED 18 IN TERROR TRIAL  
*************-N-**************
Read more ;