– COLLEEN LAROSE [ JIHAD JANE ] INDICTED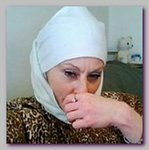 A Pennsylvania woman, Colleen LaRose, 47, who converted to Islam, has been charged, on Tuesday 03/09/2010, with terror offences including using the internet to recruit militants for deadly attacks abroad.
Colleen LaRose – also known as Fatima LaRose OR "" of Montgomery County, Pennsylvania, was arrested in Philadelphia already on 10/15/2009. She lived in Texas before moving to a community outside the northeast US city of Philadelphia. A federal indictment accuses her of agreeing to kill a Swedish citizen, Lars Vilks, the SWEDISH CARTOON illustrater, and travelling to Europe for this purpose. However one of the prosecutors told the Associated Press the indictment did not link to any "organised terror groups".  

A Department of Justice statement said Colleen (Fatima) LaRose and five others "recruited men on the internet to wage violent jihad in South Asia and Europe, and recruited women on the internet who had passports and the ability to travel to and around Europe in support of violent jihad".
Colleen (Fatima) LaRose, a US citizen born in 1963, is charged with "conspiracy to provide material support to terrorists, conspiracy to kill in a foreign country, making false statements to a government official and attempted identity theft". Attorney Michael Levy was quoted as saying Colleen (Fatima) LaRose appearance "was considered to be an asset because it allowed her to blend in."
He said the case "demonstrates that terrorists are looking for Americans to join them in their cause, and it shatters any lingering thought that we can spot a terrorist based on appearance".
According to the indictment Colleen (Fatima) LaRose spent considerable time on the Internet in Muslim Chat-Rooms, run by Jesse C. Morton, befriending Jamie Paulin Ramirez and other Muslim extremists — including Mohammad H. Khalid and Najibullah Zazi, the Aurora airport-shuttle driver who recently admitted his plot to bomb the New York City subway system (see – Zazi's Plea). Jamie Paulin-Ramirez's future Algerian husband, Ali Charaf Damache, whom she married in 09/2009, was, in fact, the point of contact for "Jihad Jane".
Colleen (Fatima) LaRose posted a comment on YouTube in 06/2008 under the username Jihad Jane, stating she was "desperate to do something somehow to help" suffering Muslims. By 02/2009, she was telling one co-conspirator in correspondence that her physical appearance would allow her to "blend in with many people".
A month later, in 03/2009, Jihad Jane agreed to obtain residency status in Sweden and marry another co-conspirator to get him inside Europe, the U.S. said. Later that month, Colleen (Fatima) LaRose allegedly received a direct order to kill a citizen and resident of Sweden and to do so in a way that would frighten non-Muslims, prosecutors said. LaRose – Jihad Jane traveled to Europe and tracked the intended target online in an effort to complete her task, prosecutors said.
If Colleen (Fatima) LaRose is found guilty, she could face a life term in prison and a fine of $1m. It is most likely that the publication of the arrest is coincided with the arrest of 7 Islamist in Ireland who plotted also to kill Lars Vilks (see – Arrests 03.09.10). The Irish authorities said their arrest was a result of an international investigation including the FBI in the USA. One of the Irish detainees was identified on Friday 03/12/2010, by her mother in USA, as Jamie Paulin-Ramirez. Colleen (Fatima) LaRose is the first USA female citizen indicted for terrorism (see alsao – Muriel Degauque).
* Related topics ;
–
2009 NEGATIVE RECORD 
01/2010 – ATTEMPT ON DANISH CARTOONIST FOILED  
02/2010 – NORWEGiAN MUSLIMS PROTEST OFFENSIVE CARTOON
 **************************
Read more ;