– ABOUT 100 MILITANTS ARRESTED IN SAUDI ARABIA
–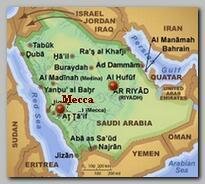 Saudi Arabia, the world's biggest oil exporter, has arrested about 100 people suspected to have links with Al Qaeda, media reports said on Wednesday 03/24/2010.
The reports on Wednesday said the men were plotting attacks on vital installations in the kingdom. Those arrested reportedly included dozens of foreigners as well as Saudi nationals.
It said a group of 47 Saudis and 51 foreigners had been preparing "acts of terror" – attacks on oil installations in the world's biggest oil exporter (see – Energy-Fears). Weapons, cameras, documents and computers were also seized. The suspects were organized in three cells, two of which were planning to attack oil and security facilities in the oil-producing Eastern Province. They included a Yemeni, who security officials described as being a prominent member of Al Qaeda.
The large cell was discovered as the result of an investigation launched after suspected al-Qaeda fighters – two of them dressed as women – tried to infiltrate the country in October 2010 with explosives (see – Shootout 10.13.09).
.
The foreigners in the cell were said to have entered the country
under
the
 pretence of seeking work or visiting Muslim holy sites in Mecca and Medina.
.
"We seized belts of explosives which they were planning to use in suicide attacks," the security official said. Most of the suspects were arrested in the southern province of Jazan, near the border with Yemen. The dates of the arrests were not disclosed. 
 .
* Related topics –  
–
01/2010 -113 SAUDI TROOPS KILLED ON YEMEN BORDER  
01/2010 -SAUDI ARABIA CONFIRMED THE DEATH OF 3 MILITANTS  
09/2009 -REPORT; SAUDI FINANCED TERROR
.
*************************
 Read more ;
–