– 12 MORE KILLED IN DAGESTAN BOMBINGS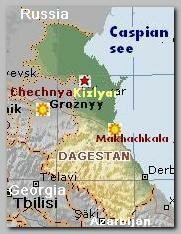 Just two days after 39 people were killed in Moscow metro blasts (see – Moscow 03.29.10 ), at least 12 people, including a top local police official, have been killed, on Wednesday 03/31/2010, by two suicide bombings in Russia's North Caucasus republic of Dagestan.
A car bomb was detonated at about 0830 (0430 GMT) outside the offices of the local interior ministry and the FSB security agency in the town of Kizlyar. Another bomber then blew himself up 20 minutes later as a crowd gathered.
Although it is too early to say whether there is a link between the attacks in Dagestan and Moscow, they both bear the hallmarks of previous suicide bombings carried out by Islamist militants from the restive region (see – CAUCASUS Deterioration).
Last month, Chechen rebel leader Doku Umarov warned that his fighters' "zone of military operations will be extended to the territory of Russia… the war is coming to their cities" (See also – Alexander Tichomirov).
In Wednesday's attacks, the first suicide bomber detonated his explosives when police tried to stop his car as he drove into the center of Kizlyar, Dagestani Interior Minister Rashid Nurgaliyev said.
As police, emergency services personnel and residents gathered at the scene, a suicide bomber wearing a police uniform approached and blew himself up, killing among others the town's chief of police, Col Vitaly Vedernikov,
A total of 9 police officers were among the dead, the investigative committee of Russian prosecutors said in a statement. 23 people were injured.
One of the suicide bombers was identified a day later as Daud Magomedov, or Daud Jabrailov. (see also – Djanet Abdurahmanova ).
On 04/04/2010 the Russian authorities said they have identified the second suicide bomber in Lubyanka station of the Moscow Metro attacks, on 03/29/2010, as Maryam Magomedov,
The name Magomedov suggests familly relations between the attacks in Moscow and Kizlyar, based on personnal vendetta.
* The coordinator of the attack, Magomed A. Vagabov, was killed by Russian forces in the Northern Caucasus, on Saturday 08/21/2010. 
Related topics –  
–
02/2010 -MOHAMAD SHAABAN KILLED IN DAGESTAN  
08/2009 -VIOLENCE FLARES IN THE CAUCASUS  
02/2009 -AMIR MUAZ KILLED IN DAGESTAN 
*********************
Read more ;