– MARYAM SHARIPOVA MAGOMEDOV
–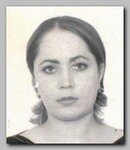 On 04/04/2010 the Russian authorities said they have identified the second suicide Black Widow bomber in Lubyanka station of the Moscow Metro attacks, on 03/29/2010 (see – Moscow 03.29.10), as Maryam Sharipova Magomedov, a 28 years old computer science teacher from the village of Balakhany in Dagestan. 
Maryam Sharipova Magomedov graduated with a degree in mathematics and psychology from the Dagestan Pedagogical University in 2005. She returned to her village, lived at home and taught computer science at a local school .She was religious but she never expressed any radical beliefs.
A brother of Maryam Sharipova was charged, in 2008, with belonging to an armed group and allegedly tortured in custody before most charges were dropped.
The name Magomedov suggests familly relations between the attacks in Moscow and Kizlyar double suicide attack two days later (see -
Kizlyar 03.31.10
) , based on personnal vendetta.
The other suicide bomber in Kultury park was already identified as Djanet Abdurahmanova.
**In the Caucasus the age of marriage is very young, generaly under 18. A 28 yeras old unmarried woman, like Maryam Sharipova Magomedov, is considered to be a shame and embaressment to herself and her familly and makes a woman very vulnerable. In the Palestinian Intifada -uprising, in the years 2002-2006 most of the female suicide bombers had a serious problen with their relationships. Generaly the outlet for such womens is to immigrate to the annonimity of a big town but some of them find the suicide bombing act as a possible salvation for them and their familly too.
**
Maryam  Magomedov's
fiancé Magomed A. Vagabov was killed by Russian forces in the Northern Caucasus, on Saturday 08/21/2010.
* Related topics – 
–
Read more ;