– U.S EMBASSY IN DELHI – "IMMINENT ATTACK" POSSIBLE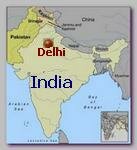 The US Embassy in India has warned, on Saturday 05/01/2010, of possible "imminent attacks" by militants in the capital, Delhi, and advised US citizens to be vigilant. "There are increased indications that terrorists are planning imminent attacks in New Delhi," said a statement on the embassy's website. It urged people to avoid several locations popular with Westerners. The alert is an update of the previous 04/24/2010 alert (see – Alert 04.24.10).   
Militants linked to Pakistan-based Islamist groups have been blamed for previous attacks in the city. The alert was issued a day after the Indian police warned of a possible terror attack in Kolkata (see – Kolkata 04.30.10).
The advisory, which steps up a warning issued last month, said that popular shopping areas such as Chandni Chowk, Connaught Place, Greater Kailash, Karol Bagh, Mehrauli, and Sarojini Nagar, should be avoided.
It said US citizens travelling or living in India should maintain "a high level of vigilance", and be aware of their surroundings or any unattended packages. 
.
* Related topics –  
–
04/2010 –

MOHSIN CHOWDHARY BAMK ACCOUNTS FROZEN

  
2003-8 -PAKISTAN'S I.S.I KARACHI PROJECT
.
**********************
–