– THE ROW OVER SHAHRAM AMIRI GOES ON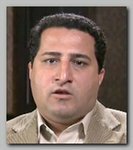 A man who says he is the Iranian nuclear scientist Shahram Amiri claims, in a footage distributed on Tuesday 06/29/2010 evening, to have escaped after being abducted by USA agents.
In a video shown on Iranian state TV, he says he has escaped in the USA state of Virginia and is now on the run.  Two videos purportedly showing him surfaced three weeks ago. One said he had been kidnapped, the other that he was living freely in Arizona.
The US has strenuously denied abducting him, but ABC News reported in March 2010 that Mr Amiri had defected and was helping the CIA compile intelligence on Iran's controversial nuclear weapons programme.
In the new video, broadcast on Tuesday, a man claiming to be the missing scientist says: "I, Shahram Amiri, am a national of the Islamic Republic of Iran and a few minutes ago I succeeded in escaping US security agents in Virginia. Presently, I am producing this video in a safe place. I could be re-arrested at any time."
The man says the video broadcast earlier this month – in which someone claiming to be Mr Amiri says he was kidnapped by Saudi and US agents, tortured, forced to say he had defected and was living in Tucson, Arizona – is "completely authentic and there are no fabrications in it. A US official told the AFP news agency the allegations were "ludicrous".
Iranian media have said Mr Amiri worked as a researcher at a university in Tehran, but some reports say he worked for the country's atomic energy organisation and had in-depth knowledge of its nuclear programme.
*On Tuesday 07/13/2010 morning, Iranian State Media claimed Shahram Amiri found refuge in the Pakistani embassy in Washington, which represent Iranian interests in USA. A spokesman from Pakistan's Foreign Office, Abdul Basit, told the BBC, few hours later, that Shahram Amiri was seeking immediate repatriation to Iran. (see – Amiris Confusion ).
 * Related topics – 
01/2010 –

IRANIAN SCIENTIST MASSOUD MOHAMMADI KILLED

 

2009 -THE SECRET WAR IN THE MIDDLE EAST

  
**********************
 Read more ;