– JALALABAD AIRBASE ATTACK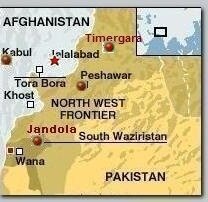 The Taliban have attacked, on Wednesday 06/30/2010 at 07:30, a NATO-ISAF air base in Jalalabad, eastern Afghanistan, as the USA attorney general Eric Holder arrived in the country to discuss corruption. Jalalabad airbase is the third NATO-ISAF largest base in Afghanistan (see – Taleban Tactic 2010).
The Taliban said they entered the airbase and that 6 men participated in the attack. One suicide bomber detonated himself in a vehicle at the gate of the base and other fighters armed with AK47s and rocket propelled grenades entered the airport. But a spokesperson for NATO-ISAF SAID that the Taliban did not breach the perimeter of the base and its forces killed eight Taliban fighters in the attack.
Gunfire was heard and US helicopters were seen hovering around the airport. The attack was repelled.
Taliban spokesman Zabiullah Mujahid said six suicide attackers had taken part in the assault.
———————————–
* On Sunday 12/02/2012, Jalalabad airbase was targeted again by the Taliban. Taliban suicide bombers have killed four Afghan soldiers and wounded NATO-ISAF troops in the attack. A local police chief said that two civilians had been also killed in the attack on the base in Jalalabad.
Afghan intelligence officials said nine suicide attackers had been involved in the assault, and all had been killed. NATO said the attackers had failed to penetrate the base. It is unclear how many of its troops were injured.
 * Related topics –
–
06/2010 – PETRAEUS'S MISSION  
06/2010 – 39 KILLED IN KANDAHAR WEDDING BLAST  
06/2010 –  HELICOPTER SHOT DOWN IN HELMAND
Read more ;