VIQAR UDDIN AHMED ARRESTED IN HYDERABAD
VIQAR AHMED ARRESTED IN HYDERABAD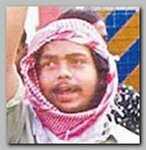 Terror suspect Viqar Uddin Ahmed, who was arrested, on Wednesday 07/13/2010, in Hyderabad, India, floated the terror outfit 'Tehreek Galba-e-Islam' – TGI in 2007 to avenge police firing following the bomb blast at the historic Mecca Masjid. Viqar Ahmed carried a reward of Rs.500,000 is a former SIMI activists.

 



Police Commissioner A.K. Khan said at a news conference late Wednesday that Viqar Uddin Ahmed was arrested along with five associates. All the six would be produced in a court Thursday.

Police said TGI was involved in the killing of two policemen and one home guard since 2007. Three short weapons with 35 rounds, four piston magazines, one dagger, a knife, CDs, a pen drive, four two-wheelers and two fake media identity cards were recovered from them.

Viqar Uddin Ahmed, who was earlier associated with radical Darasgah Jihad-o-Shadat – DJS, formed the 'Tehreek Galba-e-Islam' – TGI and vowed to avenge the police firing immediately after the blast at the mosque.

'During last two anniversaries (of the blast), he decided to target at least one policeman and succeeded in his mission,' Khan said.

Nine people were killed in the blast at the mosque, on 05/18/2007. Five more were killed in the subsequent police firing on protesters near the mosque.

The police chief said TGI killed one policeman and one home guard in Hyderabad. TGI activists also killed one policeman in Ahmedabad, Gujarat, when he tried to prevent them from committing a bank robbery.

The accused confessed before the police that they committed robberies in Hyderabad and other places to fund their activities.

The arrested include Haneef, a resident of Ahmedabad living here, who gave shelter to Viqar Ahmed in both the cities; Syed Amjad alias Suleman, a physician from Gujarat, is a staunch supporter of Viqar Uddin Ahmed and had participated in all the offences with him; Zakir; Riaz and Saeed operated as members of TGI.

The accused allegedly shot dead a police constable in the old city of Hyderabad, on 05/13/2010, five days before the third anniversary of Mecca Masjid blast.

Masked assailants opened fire on policemen, killing one, in Shahali Banda area, about a kilometre from the Mecca Masjid (see also – Hyderabad Attack).

Last year, on the second anniversary of the blast, a home guard was killed and a policeman was injured in a similar attack when assailants opened fire on police at Falaknuma area of the old city.

Two policemen were injured, on 12/03/2008, in an earlier attempt to arrest Viqar Ahmed.
In his interrogation Viqar Ahmed told the police that he had travelled to Pakistan and Bangladesh where a 26/11 Mumbai Carnage type attack plan was hatched by the Harkat-ul-Jihadi Islami – HuJI. He returned to Hyderabad to raise funds for this attack, which he had planned to undertake on 12/06/2010, the 18th anniversary of the Babri Mosque crisis.
* Related topics –









06/2010 -DR. ZAKIR NAIK BANNED FROM U.K






06/2010 -PROTEST OVER MOHAMMED PATEL BAIL RESTRICTIONS  
***********************
Read more