28 KILLED IN IRAN MOSQUE BLASTS
28 KILLED IN IRAN MOSQUE BLASTS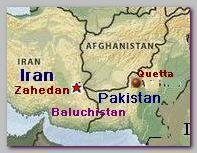 More than 28 people have been killed and scores injured in a suspected twin suicide bomb attack at a Shiaa Mosque in Zahedan, Iran, officials said, on Thursday 07/15/2010 evening. Members of Iran's elite Revolutionary Guard were reportedly among the dead (see also -Zahedan 05.28.09).
Zahedan, capital of Sistan-Baluchistan province, has been targeted before by the Sunni rebel group Jundullah (Soldiers of God), whose leader Abdolmalek Rigi (see – Baluchistan-Rigi) was hanged last month. Indeed Al-Arabiya television station said it had received an e-mail purporting to be from Jundullah, saying the group had carried out Thursday's attacks in response to the execution of Abdolmalek Rigi (see – Rigi's Arrest).
Iranian state media said at least 100 were hurt in blasts outside the Jamia Mosque in the South-Eastern city of Zahedan. The attacks, in a largely Sunni area, were the work of suicide bombers, the reports said.
The blasts came as worshippers celebrated the anniversary of the birth of Imam Hussein, grandson of the Prophet Muhammad.
"The [first] attacker, dressed in women's clothing, was trying to get in the mosque, but was prevented," a local member of parliament Hossein Ali Shahriari told Fars news agency.
"When people came to rescue those hit in that blast, another bomber blew himself up. Three to four have been killed at least in the first attack." Deputy Interior Minister Ali Abdollahi described the attack as a "suicide operation", AFP news agency said.
Five senior revolutionary Guards officers were killed, on 10/18/2009 in a similar attack in Pisheem (see –Pisheen Bombing).
* Related topics –









03/2010 -IRANIAN DIPLOMAT ATTARZADEH FREED IN PAKISTAN






02/2010 -U.S FAILURE IN THE GULF   
***************************
Read more