ZAWAHIRI NAMED ARAB LEADERS "ZIONISTS"
ZAWAHIRI NAMED ARAB LEADERS "ZIONISTS"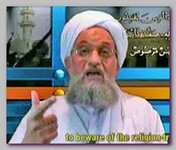 Al Qaeda acting leader Ayman Al Zawahiri slammed Arab leaders as "Zionists" in a new audio massage, on Monday 07/19/2010, in his first message since 12/2009, posted online. "These Arab Zionists are more dangerous than Jewish Zionists," Zawahiri said in the audiotape posted on an Islamist website that stated the message was produced by Al Qaeda's Al-Fajr (the Dawn) media arm (see – As-Sahab).
Zawahiri also mocked USA President Barack Obama, for saying that the Taliban will not gain power in Afghanistan, hailing at the same time, the "victory" of the Islamist militant group against coalition forces.
Zawahiri hit out at Egypt in particular for planning to build an underground metal fence with Gaza to curb cross-border smuggling — the only lifeline for the Hamas-run enclave amid Israel's blockade. "Who is besieging our people in Gaza and is surrounding them with an underground metal fence? Is he not the chief of Arab Zionists (Egyptian President) Hosni Mubarak?" he charged.
He went on to accuse Jordan's king Abdullah II, Saudi King Abdullah and Palestinian president Mahmud Abbas of being "Zionists."
"Who is providing his intelligence service to serve US intelligence and (Israel's) Mossad? Is he not the heir of traitors, Abdullah, the son of (late King) Hussein" of Jordan, he said. "And who is aiding Mossad to kill the Mujahedeen (holy warriors) and capture them? Is he not the Arab Zionist Mahmoud Abbas?," Zawahiri charged.
He slammed Arab leaders collectively for backing the Saudi-drafted peace initiative, which was first presented in 2002, offering Israel full recognition in return for its withdrawal from the occupied territories and a just settlement for refugees."Who were those who agreed collectively to hand most of Palestine to the Jews, and said that the refugees issue can only be settled in arrangements with the Jews?
In his last massage in 12/2009 (see – Audio 12.14.09), when he criticized Obama's Middle East policy, charging it was "humiliating" for Muslims and a "new stage in the Crusader and Zionist campaign." In his new tape, he also lashed out at Obama.
"Obama, whether you admit it or not, Muslims have defeated you in Iraq and Afghanistan and will defeat you in Palestine, Somalia and the Islamic Maghreb," he added.
It is a relative long time of 8 months since his last audio massage, on 12/14/2009, and 9 months since his last video massage, which emphasizes the growing stress and concern about security in which Al Qaeda leadership is in.
* Related topics –





04/2010 -TALIBAN WANTS DETAINEES SWAP WITH FRANCE






03/2010 -AL QAEDA CALLS US MUSLIM SOLDIERS TO ATTACK AMERICA





*************************