– AHMED ABDI GODANE – ABU ZUBEYR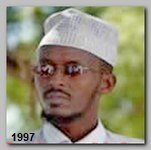 Al-Shabab leader since 05/2008, Ahmed  Godane who also goes by the fake name Mukhtar Abu Zubeyr, was born in Northern Somalia, now known as Somaliland and functioning as a democracy in the late 70s'.
Ahmed  Godane received an accounting scholarship to study in Pakistan funded by Saudi millionaires, he use to occasionally travel to Afghanistan during his school breaks. Terrorist Godane returned to Somaliland in late 2001 after operation Absolute Justice in late 2001 and by 2002. Ahmed  Godane started to preache at the Abu-Bashir mosque in Hargeisa, the capital of Somaliland and as en employee in a local office  of the 'Dahabshiil Company', USA later described the office in Hargeisa as a terror organization accusing the office of providing or transferring funds for radical groups.   
He started a plot to create a Northern-wing for Somalia's Al-Ittihad al-Islami (Islamic Union) as an armed militia, led by Sheikh Dahir Aweys. Ahmed  Godane was able to recruit and radicalise a small group who would later carry out attacks including the killing of Analena Tonelli, an Italian aid worker working in Borame hospital, in 08/2006, and the killing of British couples.
Ahmed  Godane was arrested by the local police after the attacks and freed by the Somaliland authorities in early 2007 after most of his friends were killed or jailed.  He immediately joined the "Council of Islamic Courts" – (CIC) in the South fighting the Ethiopian forces in the Ethiopian-Somali War.
Ahmed  Godane joined Aden Hashi Farah in forming the al-Shabab militia when they split from CIC led by Sheikh Dahir Aweys. After Aden Hashi Farah was killed in a USA airstrike in Southern Somalia, on 05/01/2008, Ahmed  Godane  became the leader of al-Shabab with Mukhtar Robow Adumansur as his senior depute and lieutenant.
In 05/2009 Ahmed  Godane issued a blood-curdling jihadist video called entitled "At your service, Osama". In it, he urged all Somalis to follow the al Qaeda leader, and vowed that "the wars will not end until Islamic Sharia is implemented in all continents in the world."
From his group's strongholds in northern Mogadishu Ahmed  Godane took through the radio responsibility on the triple Kampala Bombings in Uganda, on Sunday 07/11/2010 night, which killed 74 people.
* Omar Hammami, also known as Abu Mansour al-Amriki, was reportedly killed by al-Shabab soldiers loyal to Ahmed Abdi Godane, on Tuesday 05/07/2013, afternoon near the village of Rama Addey in southern Somalia, UN-funded Radio Bar-Kulan reported.  
* Two top commanders of Al-Shabab group,  Ibrahim Haji Jama Mead, also known as Al-Afghani (from Afghanistan) and  Abul Hamid Hashi Olhayi,  have been killed by their own fighters, following power struggle inside the organization with Ahmed  Godane's supporters in Kismayo in late 06/2013. The men were believed to be representing Shabab's hard-line faction that focuses on Global Jihad. In the last few years al-Shabab has split into rival factions, based along clan lines and ideological differences. It is believed that Al-Afghani challenged the command of top chief Ahmed Abdi Godane. 
* * Ahmed Abdi Godane – Abu Zubeyr and his convoy were targeted by an American UAV missiles attack, on Monday 09/01/2014, in Southern Somalia near Barawe. Six people were killed in the attack but the fate of Abu Zubeyr himself remained unknown.  The Somali Prime Minister said, on Friday 09/05/2014, that Ahmed Abdi Godane was killed in the strike.
* Related topics – 
************************
 Read more
VKB.ISVG.OR