– IRAQ – 4 ISLAMIC MILITANTS ESCAPED CAMP CROPPER
–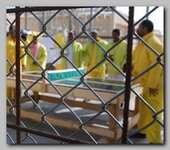 Four Al Qaeda-linked detainees have escaped from a Baghdad area prison that was handed over by the USA to Iraqi authorities a week ago, Iraq's justice minister said Thursday 07/22/2010 — a daring escape that embarrasses a government struggling to prove it is capable of operating without USA oversight.
The four, who had been arrested by USA forces, in 2008 and early 2009, in Western Iraq, awaiting trial on terrorism charges, escaped from the high security prison formerly known as Camp Cropper.
The escape is the second to come to light in Iraq in about a week, and spotlights concerns about how prepared are Iraqi authorities to take full control of the country as USA combat forces are to be sharply scaled back by next month (see also – Verge of Chaos).
The July 15 handover by USA forces of the prison that once held Saddam Hussein and other senior members of his regime marked a milestone for Iraq's push to regain full sovereignty. It offered a new measure of pride in a nation where bombings and assassinations are still common and the formation of a new government has been stymied by politicians jostling for power since a 03/07/2010 parliamentary election (see -IRAQ 2010 ELECTIONS ).
Two Iraqi intelligence officials and a third in the Interior Ministry who are knowledgeable about the case said authorities believe the four men — whom they identified as Al Qaeda members — were aided by the prison official in charge of their block. The intelligence officials said the four were discovered missing Tuesday during an evening roll call. When prison staff went to inform the unit head, they found that he, too, was missing. He has not reported for work since, the officials said.
The intelligence officials said one of the escaped inmates is believed to be a senior member of the group, and had the title of finance minister of the Islamic State of Iraq, an Al Qaeda front group. The "finance minister" was arrested On Saturday 02/21/2009 (see – Diyala 02.28.09). 
One intelligence official said the four men were officially listed in a security report as Mohammed  Hamid, Qais Azmi, Malik Nazzal and Hussein Ahmed. He did not have their noms de guerre, however. Most militants take on other names.
All three officials spoke on condition of anonymity because they were not authorized to release the details of the investigation to the media.
The U.S. forces handed over about 1,500 prisoners to Iraqi authorities during the changing of the guard at Camp Cropper, but continue to hold 200 detainees at the request of the Iraqi government. They are kept in a separate part of the prison dubbed Compound 5. Just before the prison's handover, Iraqi officials announced that USA forces had transferred dozens of members of Saddam's toppled regime to their custody. Included in the list was Tariq Aziz, Iraq's former foreign minister who became the international face of Saddam's policies.
The intelligence officials said Iraqi authorities have removed many of the officials who headed units in the prison, fearing other escapes. The officials said a ministerial committee has been set up to investigate the escape from the high security facility, and authorities believe that the head of the unit where the men were held may have given them Iraqi army uniforms and driven them out of the base using a special pass he had that allowed him to escort visitors in and out of the facility.
Karkh Prison, the name given by the Iraqis to the Copper detention facility since the 07/15/2010 handover, is divided into six detainee compounds, and is manned by 700 Iraqi corrections officers and about 100 support staff. The $48 million compound was used by U.S. forces since 04/2003 and can hold up to 4,000 prisoners.
The escape is the second such incident to come to light in about a week. A day before Camp Cropper's handover, the family of slain British aid worker Margaret Hassan said the man who was sentenced to life for her murder and kidnapping was missing from prison.
Ali Lutfi al-Rawi had successfully appealed his conviction and was slated to be retried. But he failed to show up for his court date and authorities said they could not locate him in prison. The incident is also being investigated.
While Iraq has made dramatic security gains since 2008, with attacks down significantly from levels seen during the peak of the insurgency, it continues to face challenges.
Two Ugandans and a Peruvian who worked as security contractors for the USA government were killed during a rocket attack Thursday on the Green Zone, a fortified area in Baghdad that houses the U.S. embassy and the Iraqi government. The embassy said in a statement that 15 others, including two Americans, were wounded in the attack. The contractors worked for a company that provides security services for USA forces. Mortar and rocket attacks on the Green Zone were once a daily occurrence, but they have become rare over the past two years.
At least five mortar rounds fell on the Green Zone on July 4, during U.S. Vice President Joe Biden's visit to Iraq. There were no reports of casualties (see aslo – Biden 07.03.10).
In northern Iraq, a bombing and a series of drive-by shootings in a city where Al Qaeda retains a stronghold left 7 people dead and nine other wounded. Among those killed in Mosul were an Iraqi army brigadier general, a Sunni cleric, two policeman, a soldier and two civilians.
* Related topics – 
–
07/2010 -DOZENS SUNNI MILITIAS KILLED IN BAGHDAD  
07/2010 -ABOUT 40 SHIAA PILGRIMS KILLED IN BAGHDAD  
************************
Read more ;