– MILITANTS ATTCKED CHECHEN'S PRESIDENT COMPOUND
–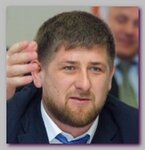 A daring militant raid on Chechen President Ramzan Kadyrov's home village (see – DESERVE TO DIE ), on Sunday 08/29/2010, erupted in a gunbattle that killed at least 14 people, officials said.
Kadyrov was in the village of Tsentoroi, about 20 kilometers east of Grozny, when the gang of about 30 Islamist militants entered at about 4:30 a.m., and he personally led the counteroffensive. The president, who appeared on national television examining the bodies of killed militants, said the situation was under control.
"We let them into the village so they couldn't escape," Kadyrov told Channel One state television. "We forced them into a place where they could be eliminated". Kadyrov, who is up for reappointment next year, said 12 militants and two of his guards were killed and four civilians wounded. But law enforcement officials told RIA-Novosti that the militants' casualties could not be confirmed, and five civilians and two policemen were killed in the attack. Kadyrov denied that any civilians had died.
The Associated Press, citing a local resident, said a militant had detonated explosives in a house, killing a 30-year-old resident as well as himself. The resident also said the fighting had erupted at a construction site about 150 meters from Kadyrov's residence. The militants torched several houses and shot at police, who fought back alongside Kadyrov's guards, RIA-Novosti reported.
The attack came a day after Russian security forces killed about 14 Islamic militants in a string of clashes in the Northern Caucasus (see – Kabardino 08.28.10) and emphasizes militant are still very active in the region. 
* Related topics – 
–
08/2010 -CHECHEN SEPARATIST MAGOMED VAGADOV KILLED  
************************
Read more ; 
EN.RIAN.RU