BBC News
– ALGERIAN ARMY KILLED 10 MILITANTS
Published
August 30, 2010
–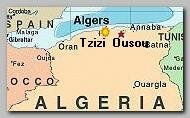 Security sources said that the Algerian army killed, on Saturday 08/28/2010 dawn, 10 gunmen suspected of belonging to MAGHREB al-Qaeda, during a special operation near Tizi Ouzou in the Kabylie region, east of Algiers.
Al Watan
newspaper said in its Sunday's edition that the operation was launched at dawn on Saturday after the Algerian security authorities got information about the existence of an armed group in the region (see also – Tzizi Ousou 08.03.08).
Three suspected al Qaeda members were killed on Thursday by the Algerian army near Tadmait in Tizi-Ouzou, about 100 km east of Algiers.
.
* Related topics  ;
–
07/2010 -FRENCHE RAID ON MAGHREB MILITANTS FAILED 
04/2010 -THE MAGHREB ALLIANCE
.
*************************
Read more ;
–
ALBAWABA