3 CHILDREN KILLED IN PAKISTAN SUICIDE ATTACK
3 CHILDREN KILLED IN PAKISTAN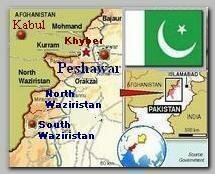 At least three school children are among 17 people killed in a suicide car bombing in North-West FATA region in Pakistan, on Monday 09/06/2010.
The attacker rammed a pick-up into a police station in Lakki Marwat town, in Khyber Pakhtunkhwa province. Books and a schoolbag could be seen in the wreckage. The dead included 11 police officers.
More than 100 people died in attacks on Shiaa Muslims in Pakistan last week, as violence resumed after flooding. The Pakistani Taliban claimed the attacks.
More than 40 people were wounded in Monday's attack in Lakki Marwat. The bomber reportedly struck a school van before ramming the rear wall of the police station; the building collapsed.
Last week, more than 100 people were killed in suicide bombings at Shia minority processions in Pakistan. On Friday, more than 60 people were killed in Quetta (see – Quetta 09.03.10) – two days after bombings killed more than 30 people in Lahore (see -Lahore 09.01.10).
The town of Lakki Marwat has previously been the scene of huge bomb attacks by militants, mainly on security personnel and tribesmen allied to them.
The biggest took place on New Year's Day 2010, when more than 100 people died after a suicide bomber blew up a pick-up truck, after crashing into a crowd watching a volleyball match (see -Bannu 01.01.10). 
* Related topics – 









08/2010 -24 KILLED AT PAKISTAN MOSQUE BLAST 






08/2010 -INDIA – PEACE TALKS AFTER TERROR ENDS   
*******************************
Read more