KENYA DEFENDS MILITANTS RENDITION TO UGANDA
KENYA DEFENDS MILITANTS RENDITION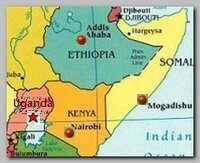 Kenyan authorities have defended, on Friday 09/24/2010, the rendition of suspects to Uganda for trial over July's bombings, by leaking documents alleging their terror links (see – Kampala 4 Suspects).
In recent weeks dozens of Kenyans have been extradited over the Kampala Bombings, which killed some 76 people in Kampala, Uganda's capital, on 07/11/2010. Somali Islamist group al-Shabab has said it carried out the attack.
Kenyan Muslim groups have criticised the arrests, with one newspaper article saying they were indiscriminate and unlawful. Ten of the 36 Kenyan suspects in total have been charged in connection with the attack.
The documents, published by Kenyan media, describe an Al Qaeda cell in East Africa and provide details of how the Kampala attack was planned. They say that "tens of youths" from across Kenya have joined the cell, trained in Somalia and fought alongside al-Shabab. The details also suggest that plans for twin attacks on Nairobi, Kenya's capital, have begun.
Some human rights workers have expressed fears for the safety of the suspects, amid reports that the suspects were secretly taken to Uganda and had no legal representation.
Earlier this month, Human Rights Watch said two Kenyans were being held by the Ugandan Police Rapid Response Unit, which the group said has previously been responsible for torturing and killing suspects.
* Related topics – 





08/2010 -32 ARRESTED IN UGANDA OVER JULY KAMPALA BLASTS






07/2010 -AL-SHABAB NETWORK






03/2010 -AMERICAN SULEMAN ESSA ARRESTED IN KENYA 

 
********************
 Read more