– IRAQ, PRO U.S SHAIK SATTAR ABU RISHA KILLED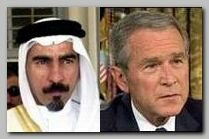 Shaik Abdul Sattar  Abu Risha, 37, the leader of a coalition of Sunni tribes – "Anbar Awakening", in Anbar province in west Iraq, was killed on 09/13/2007 in a bomb attack in the Iraqi city of Ramadi.
Recently Shaik Abdul Sattar  Abu Risha switched sides from insurgency against the USA led coalition in Iraq to an, so to speak, ally to US in the war against Al Qaeda. He was honored with meeting President Bush in his short visit to Iraq on 09/03/2007, 10 days ago.
On 06/25/2007 six Sunnites Sheikhs, who were associated with the "Anbar Salvation Council" and switched sides from the IRAQI insurgency to the American supported government, were killed by a suicide attack. (see – LEADERS KILLED ) 
Those attacks have one meaning:the rank of the tribes are totally infiltrated by anti USA IRAQI insurgents.
Later in the day, President Bush in Washington, made a televised address to the American nation backing a limited withdrawal of 5,700 troops (3% of the total numbers of USA soldiers in Iraq) from Iraq by Christmas. President Bush also expects thousands more to return by July 2008 if, if, if…..
* Related topics –  
******************************
Read more ;