– 2 TEEN GIRLS EXECUTED IN SOMALIA FOR SPYING
–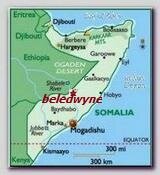 Two young women have been publicly executed by Somali Islamist group al-Shabab, reports said on Thursday 10/28/2010.
They were said to have been shot by a firing squad of al-Shabab in the city of Beledweyne, Central Somalia. The pair, reportedly teenagers, were sentenced to death on Wednesday after being accused of spying, but a relative insisted they were innocent.
The two young women were named by AP news agency as 18-year-old Ayan Mohamed Jama and 15-year-old Huriyo Ibrahim – though other reports suggest they may have been older.
The militia group's regional commander, Sheikh Yusuf Ali Ugas, said the two had been found guilty of spying and being what he described as "enemies of Islam".
.
* Related topics –
–
09/2010 -9 KILLED AT MOGADISHU AIRPORT
08/2010 -OVER 70 KILLED AS AL-SHABAB RAIDED MOGADISHU  
11/2009 -SOMALI WOMAN STONED FOR ADULTERY 
.
*******************************
–