– AL-SHABAB BEHEDED 7 "CHRISTIANS AND SPIES"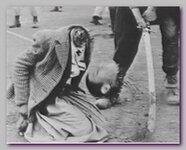 Somalia's al-Shabab rebels beheaded seven people, on Friday 07/10/2009, for being "Christians" and "spies" in the latest implementation of strict shariaa law by the Al Qaeda-linked al-Shabab movement, witnesses said.


Though al-Shabab has carried out such punishments before in regions it controls, the beheadings on Friday were thought to be their largest number of executions at one time, Somalis said.
"al-Shabab told us that they were beheaded for reasons they described as being Christian followers and spies," said one relative, who gave his name only as Aden, after the executions in the south-central town of Baidoa.
The group beheaded three people in the region last month.
The al-Shabab, which means "Youth" in Arabic, have vowed to rule the majority Muslim nation by a hardline interpretation of Islamic law. The group has dug up Sufi graves, forced women to wear veils and amputated limbs for theft.
Somalia's government has been unable to wrest control of large tracts of the Horn of Africa nation and the capital from al-Shabab militants who continue to wage guerrilla-style attacks on Somali troops and an African Union force there. 
* Related topics – 
05/2009 -SCORES KILLED IN MOGADISHU 
***************N***************
Read more ;