– 25% OF FORMER GITMO INMATES BACK IN BUISNESS
–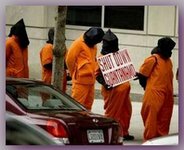 A declassified document made public, on Tuesday 12/07/2010, showed that up to 25% of all former detainees at Guantanamo Bay, Cuba, subsequently engaged in terrorism or insurgency, but the percentage is much lower for those transferred under the Obama administration.
The summary issued by Director of National Intelligence James Clapper said that of the 66 detainees transferred to other countries since President Barack Obama took office, two were confirmed and three were suspected of "re-engaging in terrorist or insurgent activities."
Overall, the summary said, a total of 598 detainees had been transferred from the Guantanamo facility, with 150 confirmed or suspected of later taking part in terrorist or insurgent activities.
"Of the 150 former GTMO [Guantanamo] detainees assessed as confirmed or suspected of reengaging in terrorist or insurgent activities, the Intelligence Community assesses that 13 are dead, 54 are in custody, and 83 remain at large," the summary said.
According to the figures, 532 detainees were transferred out under the Bush administration, with 145 of them confirmed or suspected of recidivism, or returning to terrorism. The figures put the rate of recidivism of Bush-era detainees at up to 27%, while the rate for Obama-era detainees is up to 7%.
But The Pentagon said, on Tuesday 01/13/2009, few days before President Barack Obama entered the White House, that 61 out of 532 former Guantanamo detainees, 11.4%, appear to have returned to terrorism since their release from custody, which suggests that returning to business is also a matter of time (see -Gitmo-the end).
Indeed the summary also said that the number of detainees returning to terrorism will likely increase, as data on the issue showed that, so far, about 2.5 years elapses between when detainees leave the Guantanamo facility and when they re-engage in terrorism.
Retiring Sen. Christopher "Kit" Bond, R-Missouri, an opponent of the shutdown plan, said Tuesday that the declassified summary showed the need to keep terrorism suspects at Guantanamo Bay.
More than 170 detainees are still being held at the Guantanamo Bay facility.
* Related topics ;
–
11/2010 – JABER AL-FAIFI'S INTEROGATION 
07/2010 -GUANTANAMO COMPENSATION SHAM  
12/2009 -U.S COURT REJECTED FORMER GITMO APPEAL  
**********************
Read more ;  
BLOGS.ABCNEWS