BABY KILLED AND 30 INJURED IN INDIA VARANASI BLAST
20 INJURED IN INDIA VARANASI BLAST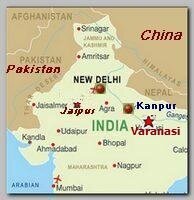 A baby girl killed and at least 30 people have been injured by an explosion in the northern Indian holy city of Varanasi, on Tuesday 12/07/2010, reports said.
The blast took place among evening worshippers at the busy Shitla Ghat bathing point on the banks of the River Ganges, near the Vishwanath temple. The worshippers had been taking part in the traditional Ganga Aarti ceremony.
At least seven foreigners were among the injured, the Times of India reported. Police said they believed the cause of the explosion was a bomb.
The blast occurred at about 18:45 on Tuesday, according to a local journalist, who said the injured had been rushed to hospital.
Shitla Ghat is the southern extension of the Dashashwamedh Ghat, where pilgrims flock at sunrise and sunset to pray or make offerings. Varanasi is the religious capital of Hinduism and is usually packed with Indian pilgrims and foreign tourists
.
Also known as Benares, the city – in the state of Uttar Pradesh, 670km (415 miles) South-East of Delhi – has a history of religious violence and terror attacks. In 2006, 15 people were killed and dozens injured when bombs exploded at the Sankot Mochan temple and the main railway station (see -Varanasi Bombings).
* The examination showed that the explosive material used in the Varanasi blast was ammonium nitrate with RDX used in little quantity to act as a booster. The forensic scientists found traces of sulphuric acid in a few places at the blast site, which was the fingerprint of Abdul Karim Tunda in the 90s' and suggests one of his "students" assembled the bomb.
* Related topics ; 









10/2010 -FBI MISSED LEADS TO AVERT MUMBAI 2008 ATTACK






10/2010 -INDIAM MUJAHIDEEM THREATS BIOLOGICAL WAR






10/2010 -INDIA WORRIES OVER ATTACKS ON GAMES  
***********************