TALIBAN ATTACKED PAKISTANI ARMY OUTPOSTS
TALIBAN ATTACKED PAKISTANI  ARMY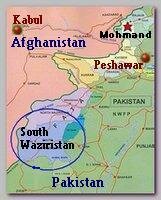 As Pakistan is facing growing pressure from Washington to launch a major ground offensive in the tribal region of North Waziristan, considered a fortress for militants fighting US-led troops in Afghanistan, at least 11 soldiers and 24 militants have been killed in clashes near the Afghan border in FATA region of North-West Pakistan, on Friday 12/24/2010, officials have said.
About 150 Taliban launched coordinated attacks against five Frontier Corps checkpoints in Mohmand tribal region, they said. The local Taliban said only two of their fighters had died.
The military has launched offensives in the region in recent months, but insurgent attacks have continued.
Amjad Ali Khan, administrator of Mohmand, confirmed that 11 soldiers had been killed following initial reports that three had died. He said 12 other soldiers had been injured. He said the Frontier Corps paramilitary troops had "repulsed" the militant attacks in the Baizai area which began at 02:00 local time. "The troops responded with artillery fire and raids by helicopter gunships, killing 24 militants," he said. "Seven of their bodies are in our possession." Amjad Ali Khan said.
However, Sajjad Mohmand, spokesman for the Taliban in Mohmand, told the BBC that only two insurgents had been killed in the clashes. He said they had captured two soldiers alive and held the bodies of six others.
Mohmand is a transit point for insurgents crossing between Pakistan and Afghanistan and a stronghold of the Taliban and Al Qaeda.
Earlier this month, a twin suicide bomb attack at a government compound in Mohmand's main town of Ghalanai left 43 people dead (see – Mohmand 12.06.10). Local officials had been meeting tribal elders to discuss forming an anti-Taliban militia at the time of the blasts.
The issue of sealing the Pakistani-Afghan border is in ongoing dispute between Pakistan and USA ever since operation Absolute Justice in 12/2001. USA claims Pakistan is reluctant and ambiguous and playing a double game with the US (see – Afghan 2010 Review). Islamabad has denied accusations that it is not doing enough to fight the Taliban in the restive North-West of the country.
It says more than 2,400 Pakistani soldiers have been killed fighting Islamist insurgents since 2002.
Pakistan supported the Taliban regime in Afghanistan from 1996-2001, but later became an ally of the US when it led an invasion in 2001.
* Related topics ; 





12/2010 -AT LEAST 50 KILLED IN U.S STRIKES IN WAZIRISTAN






12/2010 -2 BRITONS POSSIBLY KILLED IN US MISSILE ATTACK






12/2010 -11 KILLED IN A HOSPITAL BOMBING IN PAKISTAN






12/2010 -GERMAN JIHADIS BUNYANIN E. KILLED IN PAKISTAN 
***********************