U.K COURT REVOKED CONTROL ORDER
U.K COURT REVOKED CONTROL ORDER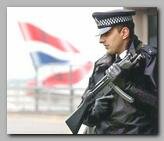 The Home Secretary must revoke a control order imposed on a terror suspect, known as BM. the Court of Appeal ruled on Tuesday 04/04/2011.  Three judges agreed the order on BM, a 38-year-old British national born in Sheffield, was so flawed that it could not stand (see – Control-System).
Lord Justice Sedley, Lord Justice Thomas and Lord Justice Hooper gave Theresa May, UK's Home Decretary 48 hours to obey the ruling – and to obtain a new order "if she considers it necessary to do so".
The court stressed that, even though the existing order was flawed, the Home Secretary had "legitimate interests" that needed to be protected in the interests of national security.
The Home Secretary has power to make control orders in cases where persons are suspected of involvement in terrorism but have never been put on trial, often it is said because of intelligence service fears that a trial could compromise information sources in the fight against terror.
The appeal judges were told there was security service evidence that BM, who cannot be named for legal reasons, led a group in Ilford, east London, involved in promoting terrorism that involved two brothers, referred to as A and B (see – ABC-Group).
Although never prosecuted, it is alleged in intelligence reports that he became active in about 2001 and travelled to Pakistan on a number of occasions on trips at least in part connected with terrorist activity. BM also expressed an interest in becoming involved in fighting in Afghanistan.
Lord Justice Thomas said BM, a divorced father of five, and his brothers were designated in 08/2007 under the Terrorism (United Nations Measures) Order 2006. The designation subjected them to substantial controls over their finances on the grounds that they were suspected of involvement in terrorism (see also – London 09.27.08).
The hearing was delayed while the home secretary attempted to move BM away from the London area and live in Leicester. The attempt failed. A further modification required him to move to Bristol.  His control order was upheld as valid by High Court judge Mr Justice Saunders in 02/2010.
The judge concluded there were reasonable grounds for suspecting BM remained a threat, given his long-standing involvement in terrorism-related activity. The judge referred to security service evidence that he had undergone explosives training in the Kashmir area and had been in contact in Pakistan with a senior Al Qaeda leader.
It was also alleged BM had been involved in the transfer of funds to Pakistan for use in terrorist purposes and providing equipment to facilitate terrorist activity in Pakistan.
Allowing BM's appeal against the judge's decision, Lord Justice Thomas said insufficient evidence had been given in "open court" that BM continued to pose a threat after he was designated under the Terrorism Order in 2007.
Lord Justice Thomas said the fresh matters mainly relied on in open court by the Home Secretary related to BM's brothers, A & B, and security service information that they had disappeared in breach of the controls imposed on them (see also – Ahmad Faraz Khan).

 

The assessment of the security services was that BM was likely to be aware of their whereabouts and activities.
* Related topics ;





02/2011 -U.K – 'SAFE HAVEN' FOR TERROR






07/2010 -U.K'S EXPORT OF  TERROR






07/2007 -GITMO COMPENSATION  SHAM






06/2010 -U.K TERROR SUSPECT WINS APPEAL 

 
********************************