ANTI-TANK MISSILE HIT A SCHOOL BUS IN SOUTHERN ISRAEL
ANTI-TANK MISSILE HIT A SCHOOL BUS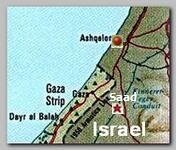 An anti-tank missile, on Thursday 04/07/2011 at about 15:00, hit a school bus outside Kibbutz Saad in the Western Negev about 3 km East from Gaza Border, injuring two people. The bus driver was seriously injured, and one 13-year-old passenger was critically injured. They were the only people on the bus.
The bus was marked in yellow, an intentional colure of school and pupil buss.  The anti-tank missile is guided by its operators who need a clear view of the target. It is therefore certain the school bus was deliberately and intentionally targeted. Hamas also shelled villages around Gaza Strip with 120 mm mortar shells.
It is assumed Hamas, which rules Gaza Strip, was trying to retaliate the death of its senior activist
Abdel-Latif al-Ashkar
near Port Sudan two days earlier (see – SUDAN 04.05.11).
* Related topics ;





04/2011 -EGYPT'S CRAWLING  RADICALIZATION






04/2011 -3 HAMAS MILITANTS KILLED BY I.D.F IN GAZA






03/2011 -50 MORTAR SHELLS FIERED FROM GAZA TO ISRAEL






02/2011 -TO BUILD A MIDDLE EAST WITHOUT ISRAEL 

 
*****************************