AFGHAN PILOT KILLED 8 U.S TROOPS
AFGHAN PILOT KILLED 8 U.S TROOPS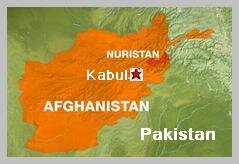 Eight U.S troops and a contractor have been killed, on Wednesday 04/27/2011, after a rogue Afghan air force pilot exchanged fire with foreign troops at Kabul airport during an argument, the Afghan defence ministry said. The incident apparently took place at a facility used by the Afghan air force at around 11;00 local time. Similar attacks became a routine in Afghanistan. A NATO-ISAF spokesman confirmed the shooting and the casualties.
Witnesses reported hearing sirens and seeing a heavy military presence near the facility, which generally has tight security.
The Taliban claimed responsibility for the incident in a text to the Associated Press news agency, but the authorities have not confirmed any insurgent activity.
Correspondents say rapid recruitment into the Afghan military has raised fears of Taliban infiltration into the police and army. Two Nato soldiers were shot dead by an Afghan border policeman in northern Faryab province on 04/04/2011, local officials said (see – Faryab 04.04.11). Afghan Air Force officers considered to be an educated elite and are going through very strict sieving procedure.
One of the 8 American soldiers killed in the shootout was a F-16 pilot Major David L. Brodeur, 34.
* Related topics ;





04/2011 -ABDUL  GHANI KILLED IN AFGHANISTAN






04/2011 -KANDAHAR JAIL MASS ESCAPE






04/2011 -LEGITIMIZING THE TALIBAN






02/2011 -ROGUE AFGHAN SOLDIER KILLED NATO COLLEAGUE 

 
***************************