– RICHARD DART – SALAHUDDIN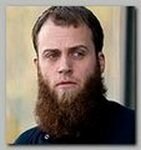 Richard Dart was born in 1982 as a Christian ethnic Briton in Weymouth in Dorset, UK. He worked for the BBC as a  security guard before he converted to Islam, in mid 07/2009, changed his name to Salahuddin and began to brand British troops 'murderers' and peddle Muslim extremism.
Immediately after converting to Islam Richard  Dart allied himself to the radical self-proclaimed preacher Anjem Choudary and his group Idslam4uk and began to preach his radical new views in East London.   
Richard  Dart came under public pressure and was himself branded 'hypocrite' after it emerged that he takes benefits off the same state he claims to despise and that he is living in a very high standard in a luxury neighborhood next to a picturesque canal in Bow, East London.
* According to police sources one of the six six terror suspects, arrested in East London on 07/05/2012, was identified as Richard Dart, also knows as Salahuddin al-Britani (from Britain) . He was detained in Ealing, West London and the one tasered by police during the arrest (see – Olympic Arrests 07.05.12).
Richard Dart, alongside four other suspects, was charged, on Wednesday 07/18/2012, that "between 25 July 2010 and 6 July 2012, with the intention of committing acts of terrorism or assisting another to commit such acts, engaged in conduct in preparation for giving effect to his intention". He is alleged to have travelled to Pakistan and elsewhere for "training in terrorism" and to have provided information to others about how to obtain terrorism training in Pakistan.
* Richard Dart and his two accomplices: Jahangir Alom of Stratford, East London and Imran Mahmood of Northolt, North West London, admitted via videolink from Woodhill prison in Buckinghamshir, on Saturday 03/16/2013, that between 07/2010 and 07/2012 they had traveled to Pakistan for terror training, gone abroad to commit atrocities, and provided other potential terrorists with information on how to get the same training in Pakistan.
* Related topics ;  
–
04/2011 -U.K'S DOUBLE  STANDARDS  
04/2011 -LONDON'S  TALIBAN  
02/2011 -CHANGE  OF  WIND  
01/2011 -HOME  GROWN TERROR  
****************************
Read more ;