34 KILLED IN PESHAWAR, PAKISTAN
34 KILLED IN PESHAWAR, PAKISTAN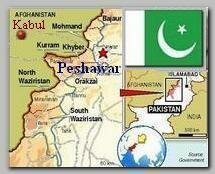 At least 34 people have been killed and 90 wounded after two explosions ripped through a market in the city of Peshawar, on Saturday 06/11/2011 midnight, police said.
The blasts occurred just after midnight in an area of the city that is home to political offices and army housing (see also – Peshawar 05.20.11).
The number of attacks by militants in Pakistan has risen sharply since Al Qaeda leader Osama Bin Laden was killed in the US commando Abbottabad Raid on 05/01/2011. On Thursday, a bombing on the outskirts of Peshawar left four people dead.
An explosive device was planted in a pile of rubbish by the roadside in the Matani area, police said. The victims included a woman and a child.
A senior police official in Peshawar, Dost Mohammed, told the Associated Press that the first explosion on Sunday had been relatively small, and had drawn rescue workers, police and several journalists to the scene. Minutes later, a large explosion rocked the area, causing the fatalities and most of the injuries. Eighteen people were said to be in a serious condition in hospital. Mr Mohammed said initial reports suggested the second blast was caused by explosives hidden in a vehicle and detonated by remote.
However, several police officials later said it might have been carried out by a suicide bomber on a motorbike. The source of the first explosion is still unknown.

 

The area had many shops and restaurants and was popular with families and students.
The incident came as Afghan President Hamid Karzai visited the capital, Islamabad, for talks with senior Pakistani officials about the beginning of USA withdrawal from Afghanistan scheduled to the next month and the future common concern both countries share – the Taliban (see – Petraeus W Plan). Speaking at a joint news conference, Pakistan's Prime Minister, Yousuf Raza Gilani, said his country would give Afghanistan all the support it could, as Kabul pursued peace talks with the Taliban (which according to many reports is partially supported by the Pakistani Inter Service Intelligence –ISI). Mr Gilani said Pakistan's only aim was to support the peace process. They inaugurated a joint commission to work for reconciliation in Afghanistan as the government in Kabul pursues peace talks with the Taliban movement (see – Legitimizing Taleban).
May 2011, the eve of the beginning of NATO-ISAF scheduled withdrawal,
was the deadliest month for Afghan civilians since the United Nations started tracking deaths in 2007, according to a report released Saturday.
The UN said insurgents were responsible for 82 percent of the 368 civilians killed in Nay 2011. Taliban's Spring-Offensive, although partially repelled, managed to shake the sense of security, stability and progress in Afghanistan (see – Failed-Objectives).
* Related topics –





06/2011 -IS NATO  RELEVANT?






05/2011 -"LAST WARNING" TO U.S IN AFGHANISTAN






05/2011 -MEHRAN NAVY BASE ATTACK INVESTIGATION





************************