– INDONESIA ARRESTED 16 OVER CYANIDE PLOT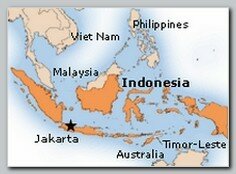 Indonesia has arrested 16 people suspected of plotting to kill police with cyanide and pen guns, a gun fashioned to look like a pen, authorities said on Tuesday 06/14/2011.
Local media reported that some of the suspects had indirect loose links to Al Qaeda and the INDONESIAN JI but were motivated by an radical Islamic ideology.
The suspects were arrested over the past three days in the capital, Jakarta, and other locations based on confessions from people captured in Central Sulawesi after two police officers were slain last month, Colonel Boy Rafli Amar, a national police spokesman, said.
"There is suspicion that they have plotted to attack policemen, but in a different ways, including by using cyanide…Police confiscated cyanide and "pen guns" – guns fashioned to look like pens – in a raid in Jakarta" Amar told reporters.
"The group planned to spread cyanide in police dormitories and canteens. Bottled water was also to be used as a delivery method. This is a new model of terror attack." Extremists in Indonesia have increasingly targeted police in the past year.
The verdict in the trial of Abu Bakar Bashir, an Indonesian cleric who is accused of funding a training camp for fighters in Aceh, is set to take place this upcoming Friday (see -Bashir's Trial).
In April 2011, a suicide bomber blew himself up in a mosque in West Java where police were preparing for Friday prayers, wounding 30 people, mostly policemen.
 * Related topics ; 
06/2011 -AGUS SALIM REARRESTED IN MALAYISiA
03/2011 -PACKAGE BOMB EXPLODED IN JAKARTA, INDONESIA
01/2011 -SOFYAN TSAURI GOT 10 YEARS FOR TERROR


12/2010 -ABU THOLUT CAPTURED IN INDONESIA

 

  
**********************************
 Read more ;