2 U.S SOLDIERS KILLED IN SOUTHERN IRAQ
2 U.S SOLDIERS KILLED IN SOUTHERN IRAQ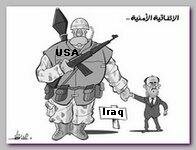 Aboout a week after 5 U.S troops were killed in Iraq (see – Baghdad 06.06.11) the U.S. military said, on Tuesday 06/14/2011, two more American soldiers have been killed while conducting operations in southern Iraq. Shiite Muslim militias, backed by Iran, have stepped up attacks on U.S. forces with the approach of the year-end withdrawal of all American troops.
Tuesday's statement didn't give details on the operations, saying only the two were killed Monday. They were not identified pending notification of next of kin.
Violence has dropped dramatically in recent years in Iraq. Under a U.S.-Iraqi security pact, which set a timetable to withdraw American forces, U.S. troops must be out of Iraq by 01/01/2012 (see – IRAQ-US DEAL).
However, U.S. troops have increasingly been targeted by roadside bombings and mortar attacks, largely in Baghdad and southern Iraq — a Shiite stronghold.
The new deaths bring to 4,462 the number of American service members who have died in Iraq since the war began in 2003, according to an Associated Press count.
* Related topics ;








05/2011 -TRIPLE BOMBING KILLED 29 IN KIRKUk









03/2011 -55 KILLED IN TIKRIT COUNCIL SIEGE  
********************************