22 KILLED IN TALIBAN'S DAY RAID ON TARIN KOWT
22 KILLED IN TALIBAN'S DAY RAID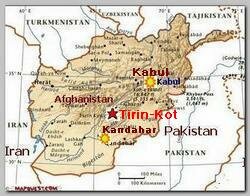 Insurgents have carried out a gun and bomb attack in the south Afghan town of Tarin Kowt, Uruzgan province, leaving at least 22 dead, officials said on Thursday 07/28/2011. They said the violence included three suicide bombings followed by fighting in a market, adding that all eight attackers had now been killed. The dead include Ahmed Omed Khpulwak, a local BBC reporter (see also – Uruzgan 06.26.11).
The Taliban said they carried out the attack, which comes amid renewed violence in Afghanistan.
NATO-ISAF said it was providing air support to Afghan forces in Tarin Kowt. Afghan intelligence officials said at least one bomb exploded near the governor's office and one near the offices of a security firm owned by a local militia commander. It is not clear where the third bomb was detonated.
Most of the fighting took place near these offices, which are close to the main market and a building which houses a local radio and TV station. The market was attacked from four sides, but the siege was broken by elite forces.
Residents said heavy machine guns, rocket-propelled grenades and assault rifles were used by both sides. Two soldiers were among the dead but no senior government officials have been harmed, officials said.
Afghan militants have stepped up their attacks as NATO troops begin the handover of security to local forces in parts of the country (see – Obama's Withdrawal).
On Wednesday the mayor of the volatile city of Kandahar Ghulam H. Hameed was killed in a suicide attack.
* Related topics ;





07/2011 -2 BRITS HELD IN AFGHANISATN OVER TERROR






07/2011 -TALIBAN DENIED MULLAH OMAR'S DEATH






07/2011 -KARZAI'S AID JAN MOHAMMAD KHAN KILLED BY TALIBAN






07/2011 -14 FORMER TALIBAN RMOVED FROM UN BLACKLIST
*****************************