ZAWAHIRI REFFERS TO SYRIAN UNREST
ZAWAHIRI REFFERS TO SYRIAN UNREST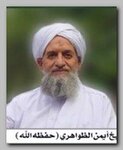 The new head of Al Qaeda Ayman Al Zawahiri, in a video that appeared on extremist websites on Wednesday 07/27/2011, describes Syria's president as "the leader of criminal gangs, the protector of traitors," and applauds anti-government protesters seeking to topple him, in a video that appeared on extremist websites this week (see Zawahiri's last massage – Footage 06.08.11).
Ayman Al Zawahiri uses the seven-minute video to discuss Syria and address the protesters seeking to oust President Bashar Al-Assad. The protests have sparked a bloody government crackdown in various cities including Daeel and Douma, according to witnesses.
"Oh free people of Syria and its mujahideen," the terror leader said. "It is better for you not to ally yourself with the colonialist powers of the world and the new crusades."  Al-Zawahiri said the U.S. changed its stance on Syria after uprisings led to the ousting of the longtime leaders of Tunisia and Egypt.  "America which had committed itself to Bashar for the length of his rule announces today that it stands with you," Al-Zawahiri said. "After what it saw and the ground shook from the thunder of your rage and after it was devastated by the loss of its two biggest agents in Egypt and Tunisia" (see – U.S 2011 Policy).
Ayman Al Zawahiri accuses the United States of planning to replace Al-Assad with someone who protects Israeli interests. "Today Washington seeks to put in the place of Assad who loyally protected the Zionist borders, another regime against your revolution and jihad with a government that follows America and cares for the interest of Israel."
* Related topics ;














06/2011 –120 KILLED IN SYRIA'S JISR A SHUGHOUR CLASHS

 
*************************